Turn Surprise into Laughter With This Humorous Gift
Anniversary, Bizarre Gifts, By Occasion, By Price, Creative, Home & Garden, Men/Women/Teen/Kid, Type, Unique
June 13, 2016,
0 Comment
70
What kind of a gift do you give a person who has almost everything? The truth is, none. And by 'none' I mean, giving him or her something he or she is unlikely come across on the market. I'm talking about a unique gift that will force a smile even in an awkward moment. If you are still wondering what that could be, check out this unique coffee/tea mug.
If you have a friend or a family member who likes coffee or tea, then there are high chances they have a special mug that they treasure and can't spend a day without using. Unless you are looking for a fight, taking away that mug from your friend is the last thing you want to do, but not when you are replacing it with a solitaire ring mug. This isn't just like any other tea or coffee mug you will find in your local stores. It is a mug on its own, uniquely designed to make every sip you take from it memorable. Who would not want that? No one. Find out why.
What is so unique about the solitaire ring mug?
It is just like your standard coffee mug but comes with something else; the solitaire ring. Whether it is a tea or coffee moment, Solitaire ring cup will kindle curiosity. Just when you think they are staring at how you take every sip, you will realize they are more interested in the solitaire ring you are wearing. Not realizing that it is attached to the cup, they'll even throw a few compliments. The ring is attached to the mug not only to reduce the chances of a clumsy person breaking the mug but also, for stylish drinking. If your recipient is a jewelry fanatic, then he or she will like this.
Solitaire ring mug comes in an oversized jewelry box that is lined with velour. It's a glossy ceramic mug that is white in color featuring a shiny golden ring handle. To use it, you are required to slip your finger through the solitaire ring handle so that it looks like you are wearing a large golden ring. It is hand-washable, weighs 13 ounces and measures 5'' x 3'' x 5''.
The main purpose of this unique combination is to lighten up the room with laughter after the realization that it isn't a ring but a handle. People around you will think that it is just a normal ring, but at the same time wondering why it is so big only to realize it is attached to the mug.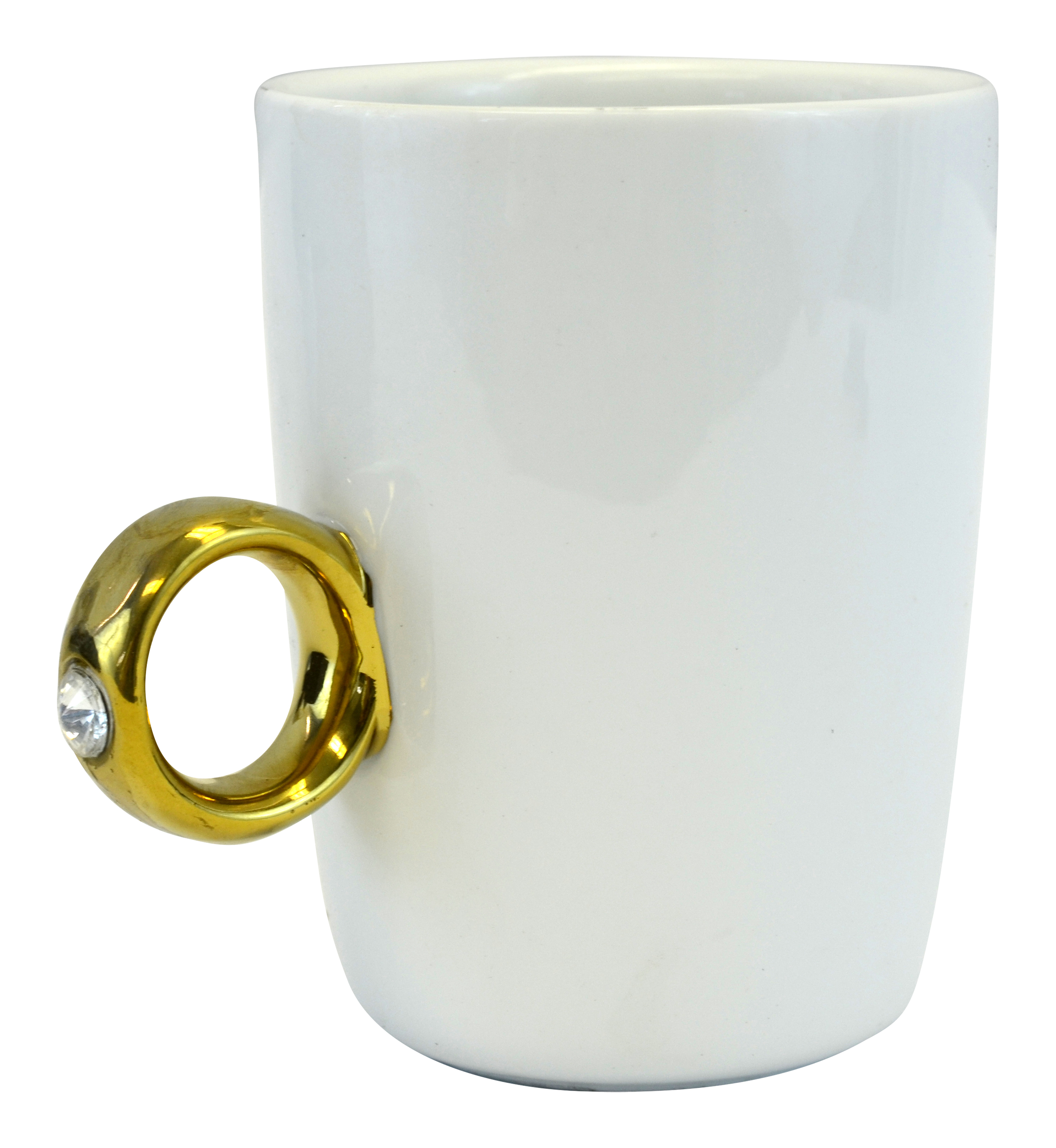 Whether it is your friend, father, mother, sibling or your mate with almost everything, there is no doubt he or she will smile at this one. Give Solitaire ring mug to anyone and see how fast things can change.